Contact & Directions
We look forward to hearing from you. You will find numerous ways to contact us below.
Mailing Address
25261 Paseo de Valencia
Suite 4
Laguna Woods, CA 92637
Email
Office@LagunaImplants.com
Please use this for general practice inquiries only. Specific patient care questions should be addressed directly with your doctor during a consultation.
Online Map & Driving Directions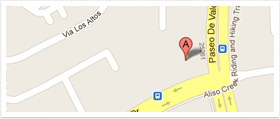 Our office is conveniently located at the corner of Paseo de Valencia and Laguna Hills Drive with plenty of parking in our private parking lot.
Directions